John Erickson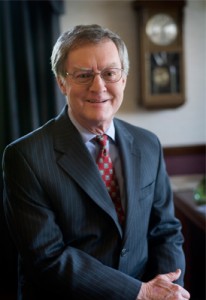 Chairman and Founder, Erickson Retirement Communities
John Erickson is convinced that America needs to change how it views the aging process. With unmatched understanding and dedication to retired people, the privately held company that John founded, Erickson Living, is the fastest-growing developer and manager of full-service, campus-style communities in the country. Headquartered near Baltimore, MD, Erickson has built an innovative network of 19 communities that combine a maintenance-free active lifestyle with an ever-expanding host of amenities, social activities, and wellness and medical centers, proven to improve both physical and mental health, all at prices that are affordable for middle-income Americans as they enter the second phase of their retirement—when access to services becomes as important as recreation. People who live in communities developed and managed by Erickson have access to:
Erickson Advantage®, a first-of-its-kind supplemental health insurance plan approved by Medicare and aimed at serving beneficiaries living in continuing care retirement communities under the government's Medicare Advantage program.
Erickson HealthSM, the nation's largest private health and wellness system for people over age 70, which has costs that are 50 percent lower than what the government pays. In addition, the health system has demonstrated 50 percent lower acute care utilization than what the government typically experiences.
The Erickson network developed 19 communities stretching from the East Coast to Colorado and together they are home to more than 23,000 people and employ a staff of more than 12,000 dedicated workers. Erickson was named one of FORTUNE's "100 Best Companies to Work For" in 2008.
In addition to founding Erickson Retirement Communities, John established what is perhaps the first health-and-wellness-oriented research institution to evolve from the U.S. retirement housing industry. Under his direction, The Erickson Foundation has invested millions in research to improve the lives of people around the world. Active aging research is one area that receives strong support. In addition, the Foundation works to develop inner city children into leaders. The Foundation's NorthBay camp, located on the Chesapeake Bay, is a unique educational retreat with a state-of-the-art environmental education center, focused on teaching and experiencing real environmental science in the field. The NorthBay program targets kids from poor rural areas and inner city areas and serves more than 12,000 students each school year in a five-day, four-night experience.
In April 2004, John helped establish the Erickson School—Aging, Management and Policy, which is located at the University of Maryland in Baltimore County (UMBC). The goal of the school is to become the preeminent resource for education, research, and policy on services for the mid-life and older populations. With an explicit focus on preparing leaders for the twenty-first century within aging services, housing, and care, the Erickson School offers undergraduate and graduate degree programs, professional certificate programs, professional and executive development, as well as cutting-edge policy and applied research.
John's efforts are also expanding into the world of media with the credo "Inform · Inspire · InvolveSM." Retirement Living TV (RLTV) launched in October 2006 as the new voice of a generation largely ignored by the television industry. RLTV aims to not only change the way you watch TV but also change the way you perceive retired life.
Dr. Freeman Hrabowski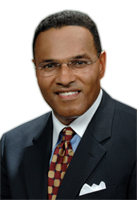 Freeman A. Hrabowski, III, has served as President of UMBC since May, 1992. His research and publications focus on science and math education, with special emphasis on minority participation and performance.
He serves as a consultant to the National Science Foundation, the National Institutes of Health, and universities and school systems nationally. He also sits on several corporate and civic boards. Examples include the Carnegie Foundation for the Advancement of Teaching, Constellation Energy Group, the France-Merrick Foundation, Marguerite Casey Foundation (Chair), McCormick & Company, Inc., Mercantile Safe Deposit & Trust Company, and the Urban Institute.
Examples of recent awards or honors include election to the American Academy of Arts & Sciences and the American Philosophical Society; receiving the prestigious McGraw Prize in Education, the U.S. Presidential Award for Excellence in Science, Mathematics, and Engineering Mentoring, and the Columbia University Teachers College Medal for Distinguished Service; being named a Fellow of the American Association for the Advancement of Science and Marylander of the Year by the editors of the Baltimore Sun; and being listed among Fast Company magazine's first "Fast 50 Champions of Innovation" in business and technology. He also holds a number of honorary degrees, including most recently from Princeton University, Duke University, the University of Illinois, the University of Alabama-Birmingham, Gallaudet University, Goucher College, the Medical University of South Carolina, and Binghamton University.
He has co-authored two books, Beating the Odds and Overcoming the Odds (Oxford University Press), focusing on parenting and high-achieving African American males and females in science. Both books are used by universities, school systems, and community groups around the country.
A child-leader in the Civil Rights Movement, Dr. Hrabowski was prominently featured in Spike Lee's 1997 documentary, Four Little Girls, on the racially motivated bombing in 1963 of Birmingham's Sixteenth Street Baptist Church.
Born in 1950 in Birmingham, Alabama, Dr. Hrabowski graduated at 19 from Hampton Institute with highest honors in mathematics. At the University of Illinois at Urbana-Champaign, he received his M.A. (mathematics) and four years later his Ph.D. (higher education administration/statistics) at age 24.