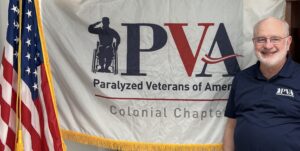 November 10, 2023
By the time he retired in 2016, Army veteran Tim Besse, M.A. '17, management of aging services, had traveled the world: 45 countries spanning 42 years working for various entities in the U.S. Department of Defense (DOD).
But it's been the last seven in Maryland – highlighted by earning his master's degree from the Erickson School of Aging Services – that have meant the most.
"I had a great career, but I get more satisfaction from what I did after retiring than I did in my job," said Besse, who–after three-and-a half-decades with the National Security Agency– yearned for something more. Two weeks after retiring, he enrolled in the Erickson School to pursue his passion for serving others.
Now a national service officer for Paralyzed Veterans of America (PVA), Besse recalls the first conversation that changed his life. "I remember asking the Erickson School admissions representative if I was too old for the program," he said. "And I'll never forget the glee in her eye when she answered, 'You're never too old to learn.'"
Besse met the challenge, graduating in 2017 at the age of 63.
"I was the oldest person in our class cohort," he said. "The student closest to my age was 10 years younger and the person farthest from my age, 40. That classmate remains a good friend to this day. She told me 'People don't think I know anything because I'm young,' and I told her, 'People don't think I know anything because I'm old!' So, we had each other's backs all the way through."
Besse credits the Erickson School – and the intergenerational connections – for making him a more effective advocate. "To be able to work with fellow student–the insight they gave to me and the wisdom I was able to impart to them–that was invaluable. I'm so grateful for that opportunity."
Equipped with knowledge and fueled by passion, Besse applied his master's to begin a new career in what he calls his pursuit of "encore aspirations." At PVA, he can advocate for injured veterans in the areas of public policy, public health, and community outreach, which represents a full-circle moment in his life.
That's because Besse grew up in a family dedicated to helping others. "My family's passion was to help those who couldn't help themselves," he noted. "My dad, mom, and aunt were always assisting others with disabilities and when I asked my dad why they did so, the answer was always the same: 'Because.' You do it because you can, because to whom much is given, much is expected."
Today, Besse's work ethic reflects his family values instilled at an early age. In his role at PVA and through his community volunteerism, he actively assists those who are in most need. He has volunteered with the Refugee Youth Project in Baltimore and remains active on a sub-board of the Christopher and Dana Reeve Foundation. He also is involved with TAPS, the Tragedy Assistance Program for Survivors.
He credits the Erickson School for helping him become a better advocate and a more effective volunteer. As a graduate student, he focused on two groups–younger persons (in which he introduced aging studies into medical science, technology, engineering, and math, or STEM programs in local high schools) and veterans.
"The Erickson School gave me a broader concept of older adults and I understand the process of aging," Besse noted. "In my daily work and volunteer activities, I work with the whole family, from grandparents to young children coping with their loved ones' health challenge or loss. And I'm much better at it thanks to the Erickson School because it gave me depth. It showed me my strengths and weaknesses. It gave me confidence."
Contact: Tony Hoppa, 585-831-0629 or ahoppa1@umbc.edu