Glen Campbell… I'll Be Me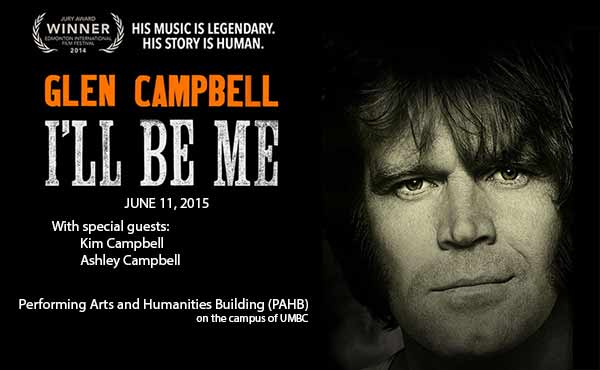 Two years ago, Glen Campbell was diagnosed with Alzheimer's disease and told to hang it up and prepare for the worst. Instead, Glen and his wife, Kim went public with the diagnosis and announced that they and the family would set out on a Good Bye Tour. Glen Campbell…I'll Be Me documents this extraordinary journey as they navigate the unpredictable nature of Glen's disease using love, laughter and music as their medicine.
Screening of the Film on campus
We will be hosting the film "I'll Be Me" on June 11, 2015 in the PAHB on campus. Our special guests for the evening will be Kim Campbell and Ashley Campbell. Seating is limited, so reserve seats now.
---

This event is sponsored by Integrace, the Alzheimer's Association and the Management of Aging Services.
---
More about the feature film
Celebrities featured in the movie:
Bill Clinton
Jimmy Webb
Bruce Springsteen
Paul McCartney
Steve Martin
U2
Jay Leno
Vince Gill
Blake Shelton
Sheryl Crow
Keith Urban
Brad Paisley
Chad Smith

…and many others
GLEN CAMPBELL…I'LL BE ME
(2014, USA, 104 min.)
A PCH Films Production
Directed by James Keach.
Produced by Trevor Albert and James Keach.
Executive Producers: Susan Disney Lord, Jane Seymour, Stanley Schneider, Julian Raymond.
Editor: Elisa Bonora.
Original Score by Julian Raymond.
Nationwide screenings will be designed to provoke meaningful conversations about Alzheimer's that include resources for patients and families dealing with the disease.