Innovation. Are you ready?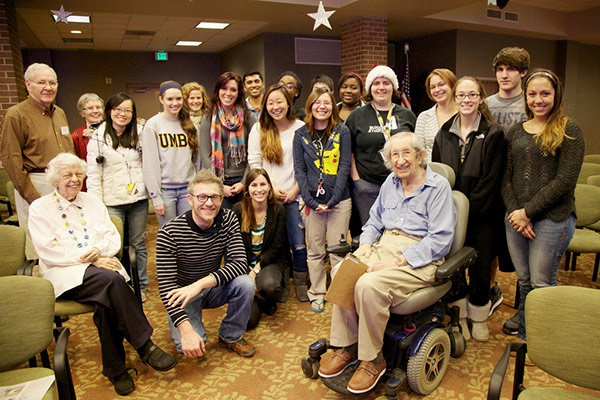 Erickson students and staff meeting up with Charlestown resident Sybe Bakker.
Our educational approach focuses on providing a holistic education—meaning immersing yourself in not only one discipline, but grasping as many as you can get your hands on. Enter our unique educational approach which focuses on Aging, Management, and Policy.
Part business school, part aging studies, and part public policy, our integrated approach to learning prevents the silo effect that many other institutions find themselves falling victim to—creating a holistic education that encompasses every facet of Aging Services, readying you for career success.
Erickson's approach facilitates an active learning environment—attracting students who want to learn, but also want to experience challenge, opportunity, and meaning. Using this experience to truly make a difference in the lives of older adults.
Why Erickson School?
We go beyond.
Never settling for the status quo, our programs leverage the existing areas of public policy and human services and blends them with high-quality teaching, experiential learning, and real-world exposure to educate a new generation of professionals in the aging services sector.
By educating these professionals, merging innovative partnerships, and providing an informed perspective to business, we will meet and most likely exceed the workforce need for qualified individuals who will lead the aging revolution.